What we have done/Highlights:
When we began we sat down in a circle and played games to learn each others names and hobbies. We did this because it was first day, that the dutch and the german group met. We also played a game called ,, yes or no", where there were statement that you had to position yourself and say why you agree or not.
During the luchbreak there were very tasty sandwiches and there were a lot of them.
After the pause we worked on making memes about freedom.
Check out this example of one of our memes: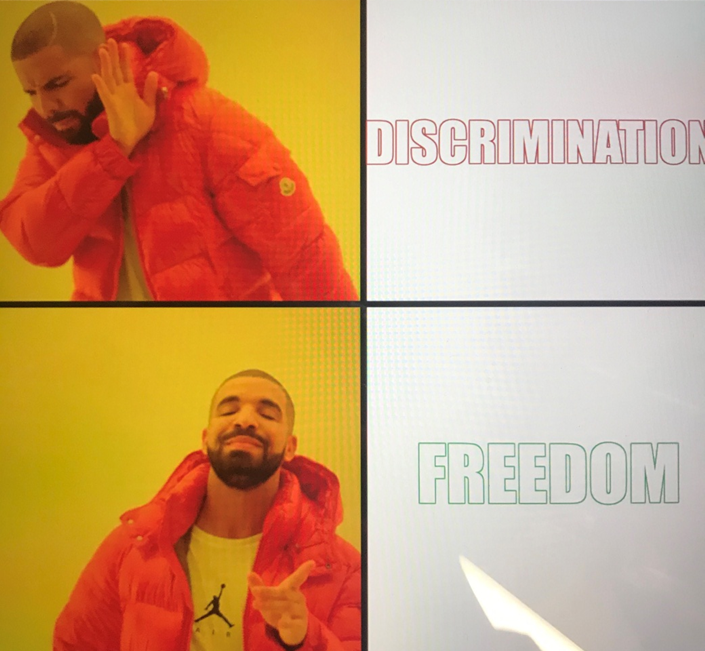 What we have learned:
Four ways how we can help everybody to enjoy freedom of religion:
Stand Up:
No one should feel bad because of their ethnicity or religion. That's why we should care for each other and stand up for those who cannot protect themselves against discrimination, especially if they are a religious or other kind of minority. Everyone has the right to live their religion without discrimination and fear.
Be respectful
Engage with everybody respectfully, including those who have not the same belief and religion. Because that can guarantee that no one has to be afraid to live out their religion. We have to be open minded for other religions.
 Respectful others desires to worship how they want:
Everybody has the right to meet their brothers and sisters of their religion and pray together when and where they want, no matter if it's in a church, in a mosque or in a synagogue.
 Befriend others (if you like):
In our group we discussed the recommendation to befriend with others. But in our group we  think that you should choose your friends regardless of their religion. Friendship should not be forced, just be opened to the people around you.
To sum up we can say that this workshop was very helpful because we learned a lot about ourselves, about other religions and how to live together in peace with people of different faith.